Hi! I am an illustrator and designer based in Richmond, VA. I have a particular interest in creating images that connect people more deeply to stories and experiences, especially those involving the natural world. A brief, incomplete, and growing list of things I love to capture: animals, people, music, science, history, and food.
I am currently the vice-chair of the board of Gallery5, and have served as co-chair of the Richmond Illustrators Club. I've shown work in local galleries, and taught at the Visual Arts Center of Richmond and the Virginia Museum of Fine Arts. In addition to my freelance illustration work, I am the Associate Director of Design Services at the University of Richmond, and art direct 
University of Richmond Magazine
and
Richmond Law
magazine. 
I have a B.F.A. in Communication Arts and Design from Virginia Commonwealth University, and attended programs at the Illustration Academy and Lorenzo di Medici Institute.
Clients include Saveur.com, Troegs Brewing, Nightingale Ice Cream Sandwiches, Capital Region Land Conservancy, Love and Radio, Richmond Magazine, Virginia Living Magazine, Venture Richmond, Hardywood Park Craft Brewery, Poplar Forest, Elevation advertising, JHI, Editor & Publisher magazine, and Richmond BizSense.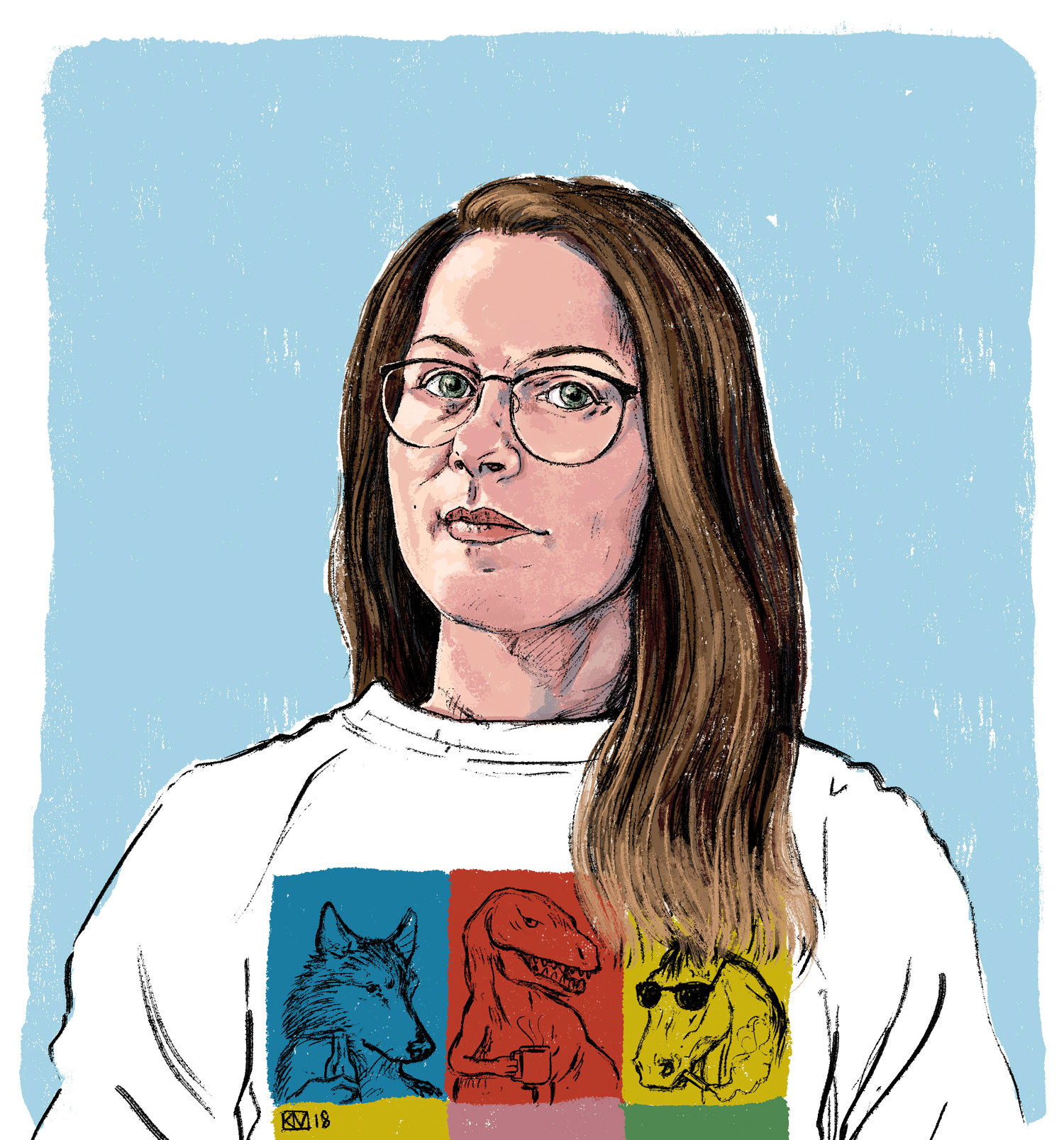 ​​​​
Other engagements and press:

Interview about illustration for Brad Perry's "Caverns of Pine"
, Queen City Sounds and Art, 2020
Artist in Residence
- Visual Arts Center of Richmond, Fall 2017
Katie McBride latest in line of Folk Festival poster artists -
Richmond Times Dispatch, 2016
Drawing Down the Moon
- Richmond Magazine, 2016
Guest artist
- Richmond Young Writers, 2015, 2016
Juror
- VSU Juried Senior Show, 2013
Juror
- Artworks All Media Show, Nov. 2013, May 2015 
Juror
- Studio 23, Mixtape Show, 2012
Selected exhibitions:
Bling It Out 3, group show, Iridian Gallery, Richmond, VA; 2020
Good as Hell, group show (co-curator with Taekia Glass), Gallery5, Richmond, VA; 2019
Bling It Out 2, group show, Iridian Gallery, Richmond, VA; 2018
Gold for a Silver Situation, group show (curator), Gallery5, Richmond, VA; 2018
Curriculum Lab, group show, Studio 23, Richmond, VA; 2017
Over the Appomattox, group show, Petersburg Area Art League, Petersburg, VA; 2013
Richmond Illustrators Club 5th Juried Show, Ghostprint Gallery, Richmond, VA; 2012
Richmond Illustrators Club 4th Juried Show, Ghostprint Gallery, Richmond, VA; 2011
Richmond Illustrators Club Curated Show, Ghostprint Gallery, Richmond, VA; 2010
Richmond Illustrators Club 3rd Juried Show, Ghostprint Gallery, Richmond, VA; 2009
Richmond Illustrators Club 2nd Juried Show, Ghostprint Gallery, Richmond, VA; 2008
Illustrators Club of Washington DC, MD, and VA, IC14 Juried Exhibition, Edison Place Gallery, Washington, D.C.; 2008  
Richmond Illustrators Club 1st Juried Show, Plant Zero, Richmond, VA; 2007